CommentPress targeted commenting for longer online documents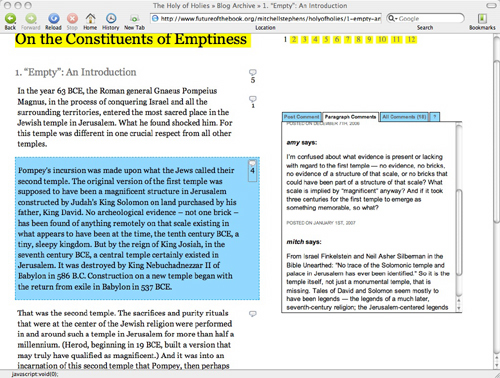 Ever since I saw the
The Holy of Holies: On the Constituents of Emptiness
experimental e-text I have wanted to get the chance to play with the commenting system that
if:book
used for that. I can see loads of possibilities for a longer more reflective type of blog post that allows readers to comment on particular steps in the argument. Which in turn could allow the author to adapt the text in a second iteration...
Today (well the 25th, but they are based in the USA which is nearly a day "behind" the real world ;-) if:book released
CommentPress
as a Wordpress plugin.
So... Maybe we could even use this to allow more public interaction and commenting on (at least some of) the papers for the "
Media and Religious Authority
" colloquium... all I need is someone to help me set up a Wordpress site with CommentPress installed and a nice theme...
Labels: blog, comment, peer-review