One Laptop per Child: Unforseen consequences?
According to the Reuters report, "
Developing nations to test new $150 laptops
" the
One Laptop per Child project
should start delivering the first few thousand innovative tough laptops to "
to eight nations in February
".
This project is smart enough, new enough and visionary enough that anyone with a love of technology and half an imagination is bound to be excited by the possibilities. But recently I've begun to think of the possible unintended consequences.
These first 2,500
machines
will inevitably be concentrated in villages associated with prominent people. But what about the next million or six? If they too are concentrated in the hands of the villages, tribes, and language groups of the powerful will Western altruism in trying to bridge one "digital divide" widen another? Or will organisations like
World Vision
ensure that they also get in significant numbers to the least "advantaged"?
And, what about the effect on
child labour
? It takes very little imagination, and kids even in the poorest places have huge imaginations, to envisage thousands of ways these laptops can be used to make a buck (and adult daily wages are little more than that) using these machines. Will pictures like these:
merely be replaced by this (without the smiles)?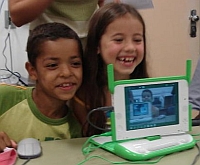 Labels: africa, one.laptop, technology