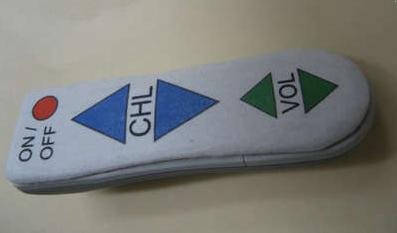 Dave Warnock
drew my attention to the post by Cory Doctorow on BoingBoing
HOWTO make a Senior Remote with only five big, friendly buttons
such a simple neat and useful idea. But why, oh why does no one manufacture the things? Cory's post is itself drawing attention to the original (I think) by anonymous on Indestructibles
Senior Remote


Mod your mom's TV remote to make it senior friendly.
My mom was born in 1931. She is from the generation of radio and WWII. Her eyesight is failing and she isn't good with anything electronic. TV remotes confuse her. This mod came to me after she called me one day, claiming her TV remote stopped working. It turns out, she inadvertently hit the button that activated the VCR functions. She didn't know or couldn't see the button to reactivate the TV functions. So I decided to "dumb" down the remote to only three functions: On/Off, Channel and Volume.
Which reminded me of another simple modification to an electronic gadget which could make it user friendly for older folk. An MP3 player with big buttons, and ideally a bigger screen font. I first explained in 2005 why I'd like to find a source for these. If they were cheap enough I'd buy 50 or 100. But no one seems to make them, and it has to be a small mod to make a cheap MP3 player user friendly for a whole new market. Add Librivox for talking books, add PodBible for talking Bible... or as Dave wants to add recordings of the service for shutins... the possibilities are huge. So, why does no one make them?
My post back then "
Tim needs an MP3 player with large buttons
" was in response to an
amusing meme
from Maggi Dawn, incidentally several of the real candidates still appear, Tim [still] needs help and a theme... plus ca change...
PS Back in 2005 I wrote:
BTW if you choose to run with this meme, could you please quote the phrase "Tim needs an MP3 player with large buttons" as I'd love to see that come up top on Google when some other Tim decides to try the meme! Who knows a manufacturer might see one of those posts and actually make one!
I'd like to still echo that, both to please make the link, and the hope that some manufacturer might see and take note - there is a market for these things.
Update
: So, players with big simple buttons exist, designed for pre-schoolers. The Fisher Price one is a bit on the expensive side and I can't see an NZ stockist, some of the US stores have cheaper ones though, so I'll look when I am in Thailand unless someone can point me to a suitable source here.
Thanks to Stephen and Anonymous (though your DSE link did not work for me bringing up other products :(